Our mobile app gets a big upgrade today
Today is a big day for our mobile app: Version 2.0 is now available on the Apple Store and Google Play for you to install.
We've received a lot of very positive comments from our users since our mobile app for smartphones and tablets was released over 2 years ago, and we've released several significant enhancements since then. However, we felt it was time for a complete do-over of our mobile apps to enable us to incorporate a number of key new features now and into the future.
We've introduced offline mode to our app to enable users to continue to add timesheet records and submit timesheets when your smartphone is in flight mode, for example. When our app detects that a link to our server is available again, it synchronises these cached records with our server and updates your timesheet. This new capability also improves overall network performance when connected to our server.
Second, we refreshed and improved our mobile app's user interface and introduced a consistent UI on both the smartphone and tablet versions. Timesheet records are more clearly outlined, the clock-on and clock-off screens have been redesigned, and we've improved the operation of the Submit and Approved screens.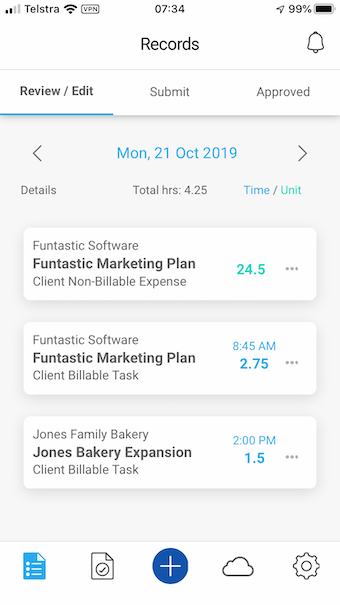 Finally, we introduced the timesheet Approval function to our smartphone app. This feature was previously only available on our tablet app, but we received a lot of feedback asking that we make it available on the smartphone as well. So our hard-working development team figured out how to do this on the smaller screen. We hope that you like this new feature.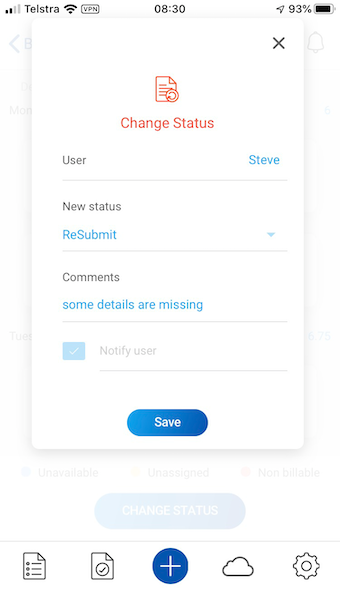 If you're a TimeSite Pro account administrator, please take a moment to let your users know that this new version is available for installation on their device. You might also suggest that they take a moment to review our updated help article covering these new Version 2 features.
We've released several other enhancements to TimeSite Pro including new Payroll integrations for MYOB Essentials (for accounting), MYOB Advanced (for payroll, accounting & project management) and KeyPay (for payroll). We've made several other major improvements to the way that our current MYOB AccountRight and Xero integrations are configured. We have also made mapping between TimeSite Pro Task Types and payroll and accounting categories much easier to set up.
We continue to work on improving our email and messaging capabilities. If you currently use this feature, we suggest that you take a moment to review these enhancements and our new help article. We're currently working on a broadcast message feature, so expect more about that in our next announcement email.
As always, we've released a lot of quality of life improvements to TimeSite Pro over the last couple of months. For example, you can specifically identify users as timesheet approvers and managers. You can specify whether an incomplete (blank) timesheet is to be created for your users each week. See Settings > System Settings > Timesheets > Approval / Authorisation for these new settings. Our Knowledge Base (this article, see below) has been updated with a complete list of these various enhancements.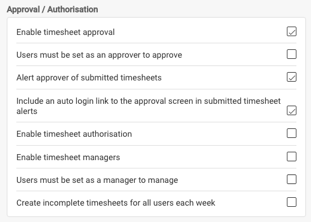 We've also been working on TimeSite Pro's multi-currency feature, and this development work will continue. If you would like more information on how we can support rates and invoices in different currencies, please contact us for a demonstration.
We want to thank all our customers who continue to make great suggestions to improve TimeSite Pro; we sincerely appreciate your input. If you'd like to suggest an enhancement, please send an email to support@timesitepro.com. We'll reply letting you know our thoughts on your suggestion.